Thanks to my dear friend
Cheryl
you are all about to see my house in it's normal state. Here's what I was supposed to do: Take a picture of the following 10 things (immediately! No cleaning first!), and then tag 5 people to do the same on their blog. I just took these so this is how my house looks now...
#1 Your kitchen sink
#2 The inside of your fridge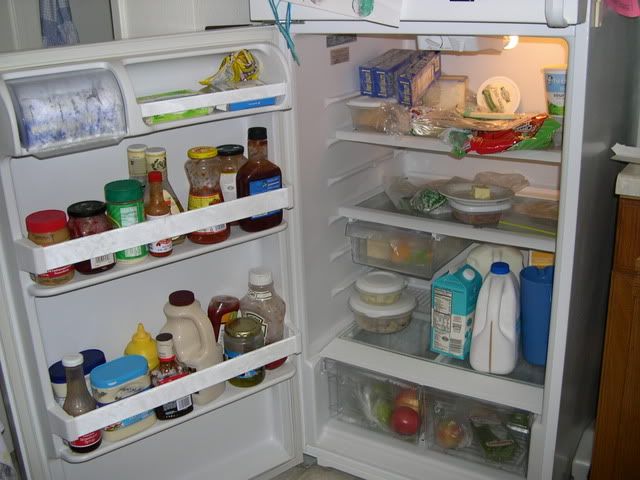 #3 Your favorite shoes-Wow, my legs are really dry! I love these shoes and pretty much wear them every day. I've had them for about a year and a half. There's actually a story behind these flip flops. A couple weeks after I bought them we went to Arizona to visit Spencer's brother's family. My sister-in-law and I went for a late night brisk walk but these were the only shoes I had. I didn't know she was going to walk so fast or we were going to walk so far. About halfway I started to feel blisters forming but didn't want to say anything so I just kept walking. Then it started to really hurt. When we got home I had blisters on both feet but on the left foot they had broken open and were bleeding pretty bad. For over a week I couldn't wear normal shoes. I still have scars. So the left shoe has a stain on the strap but that doesn't deter me from wearing them cuz they are so comfortable!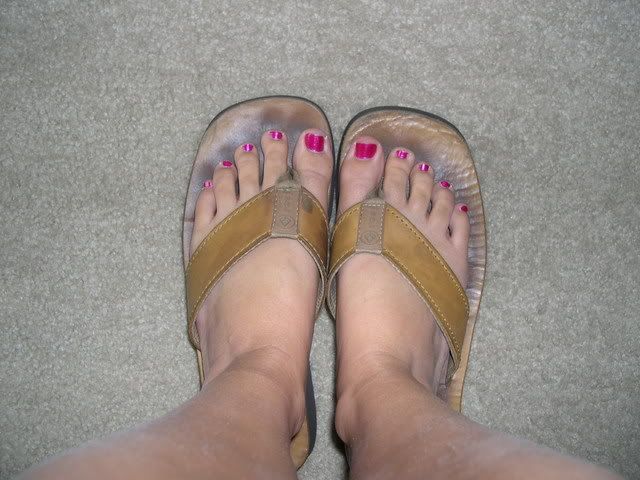 #4 Your closet-I think the inside of my closet looks pretty normal, unfortunately it's the floor right outside the closet that doesn't...
#5 Your laundry pile-this is actually my
clean
pile. Yay! Yesterday I did all the laundry except one load, I just haven't folded it yet.
#6 What your kids are doing right now-As soon as Rachel saw me open the computer to do this post she asked to watch a movie. She's watching Blues Clues right now.
#7 Your favorite room in the house-My living room. I can sit on this comfy couch--it may not be pretty with how faded it is but it sure is comfortable--and watch tv or play on my laptop. I can also see the kitchen table and the kitchen so it's pretty central. This is where I spend most of my time.
#8 Your toilet--We just cleaned on Monday but I guess I forgot to empty the trash. Not bad, I'd say.
#9 Your fantasy vacation
There are many places I would love to go but here are only a few:
Ireland, New Zealand, New York and Switzerland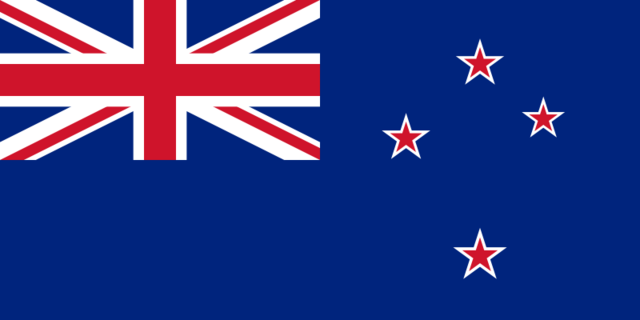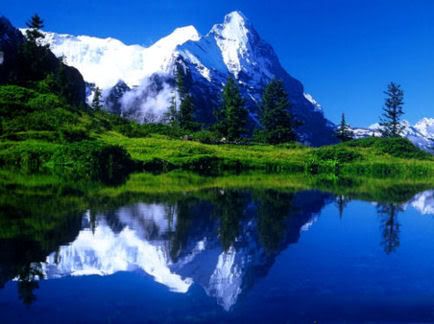 #10 Your self portrait-I really debated posting this because it's only 8:30 in the morning--not exactly quality self portrait time. Plus I have such short arms that I always look weird when I take my own picture. All in the name of self humiliation right? :)
Edited: I felt compelled to add an after picture so that this image isn't burned into your minds forever! It's kind of a funny angle because I put the camera on the edge of the couch on timer and had to lean down to make sure I was in the picture.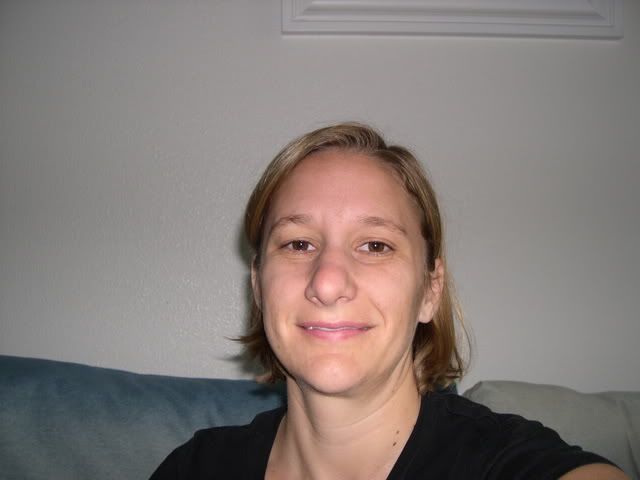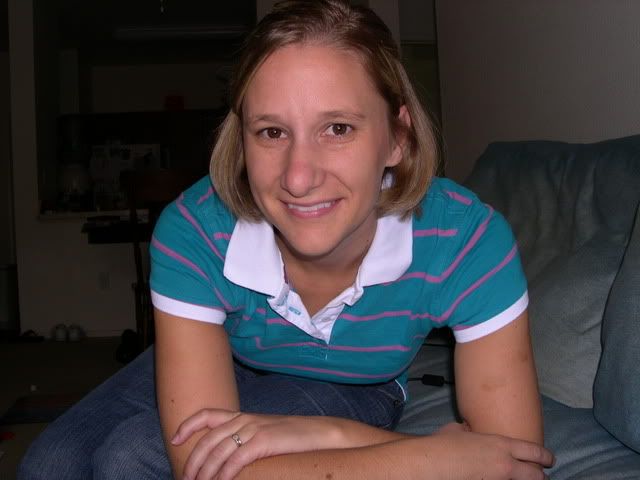 Okay enough self degredation today! Now I tag
Doretha
,
Emily
,
Emily
,
Jen
and
Shay
. Have fun!