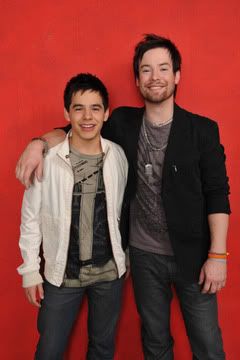 Okay it is down to the Davids tonight. David Cook and David Archuleta. I hated the boxing analogy but I loved that they had Andrew Lloyd Webber back to help Archuleta. He had great feedback during the season.
Round 1: I loved Cook's version of
I Still Haven't Found What I'm Looking For
. I think it fit him well. Although
Don't Let the Sun Go Down on Me
fit Archuleta better I think. I would buy Cook's song on iTunes though.
Round 2: Cue the cheesy songs. I thought Cook did well with the song he chose but Archuleta poured on the cheese the way he should have.
Round 3: I loved that Cook sang a song he hadn't before and what he said about that. I think he knows he is not going to win against Archuleta and that it's okay. We've heard
Imagine
before and it was beautiful again tonight. He knows how to sing for the crowd and they love him! He deserves to win the whole thing and I hope he does well!
One thing though...what happens in 2 years if David Archuleta wants to serve a mission? Do you think he'll go on a mission?
I'm looking forward to tomorrow! Oh and who wants to come to San diego this summer for the American Idol Tour with me?? We went to the one a few years ago with Chris Daughtry and it was awesome!