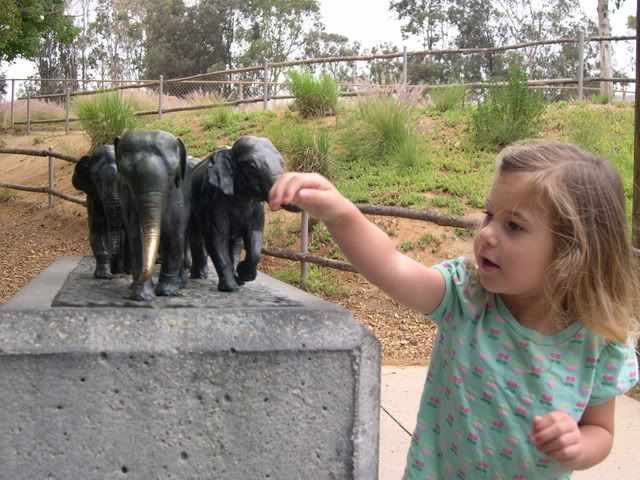 Okay so here's what we've been doing the last few days. As you know Rachel and I went to the Wild Animal Park on Thursday and here's a picture I took before we got soaked. I thought I took more, but I guess not!
Saturday we bought a new bed frame for Rachel and went to Costco. Then in the afternoon we hung out with some good friends, ate some good food and had some good old fashioned fun playing Mario Cart on the Wii. They even had steering wheels. I got worked big time because those little guys are pretty squirly but it was dang fun! One day we will have a Wii...
Sunday was just a normal day with church and visiting teaching. I love the visiting teaching program and hope to be better at it!
Monday we didn't do anything to honor those that have passed on but I thought about them. None of my dead relatives have grave sites--they were all cremated--so we don't have anyone personal to visit. In the past we have gone to a different ward's Memorial Day breakfast but not this year. I do honor and remember those that have sacrificed their lives in defense of our country though. I can not thank them enough.
We cleaned the house from top to bottom and then headed to the Wild Animal Park again. We were going to take the
train to the beach
again but we didn't know how the weather would fare for that. The good thing about living 15 miles from the WAP and having passes is you can go whenever you want! Spencer doesn't usually get to do things like this with us so we jumped on the chance. It was a little chilly but it turned out to be great. We saw the baby and the mother lions romping and wrestling. I could watch that all day! They also had a Cartoon Network thing set up in one of the pavilions so we went and checked that out. They had a inflateable jumper obstacle course that was fun for everyone that we went on a few times, a place to kick a soccer ball and ride a bike.
Then we headed to the Discovery Center that has little fun things to do for kids like look at birds and build with wooden blocks and do animal puppet shows. We usually head straight for the animals so it was nice to do stuff that we hadn't seen before. After that we were walking toward the gorillas and saw a very rare species of the comb-over. Wow was it a doozie...This thing was combed over from just over his left ear. Spencer and I were dumbfounded. It was combed so smoothly that it actually looked like he had a headband on. (No I didn't take the picture. I'm too embarassed but I have no shame posting it on my blog! haha) The funny thing is this guy had a woman sitting next to him. I'm not sure if it was his wife, but come on! Even if you were dating you do NOT under any circumstances let that out of the house! Rachel and I fell asleep on the way home so Spencer left us in the car to take a nap once we got home.
And since we are on the subject of head craziness here is a sight we saw at the Padres game last week. I like to call it the Everlasting Forehead...Seriously that thing goes on forever.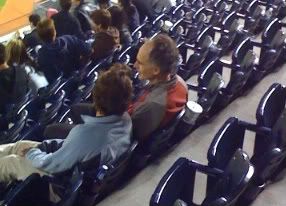 That evening my Dad and his wife, Karen took us to
Jake's
for dinner to celebrate his graduation. They were out of town two weeks ago so we got to celebrate it a little later with them. The food was delicious! We all of course were stuffed and on the way home Rachel and I had this conversation:
Rachel-Mom, I have a baby in my belly.
Me-Oh really? How did it get there?
Rachel-All the food I ate
Me-Oh. Can you feel it move inside you?
Rachel-Yes, I can.
It's funny because we haven't talked about babies in bellies for quite a while but I guess that if you eat too much and get fat that's all you need to have a baby in your belly. If only....I love the simpleness of 3 year old's minds.
We were pretty full and wasted last night so we all went to bed early and called it a night. It was a great weekend full of good food, good people and good times.