We're back from our flash weekend trip to San Fransisco. The weekend was spent moving things from my grandparents old house to their new
apartment
so that they could get more settled. Unfortunately their age is starting to show and it has made it very difficult for them to live in their house. This is the house they moved into in the late 1950's. I feel so bad for them that they have to move but I hope that this new setting will be more enjoyable for them and less taxing on their health. Their old house has stairs from the garage to the the porch, then more stairs to the house. It is a split level house so they had to go up stairs to their offices and down stairs to their bedrooms. My grandma has arthritis in her knees and my grandpa is hunched over and almost 90 so it's just difficult for them to get around.
We also spent time eating in their dining hall, shopping for things and just enjoying their company. A couple funny things happened while we were there. My grandparents walk with canes and Rachel really wanted to be like them. She found a spare cane and claimed it as her own for two days. She would walk around the house all day with this cane. If she couldn't find it she would ask, "Mom, have you seen my candy cane?" She wanted to be just like Grandma and one time we when we were eating she
had
to have her napkin in her lap and dab it at the corners of her mouth. Rachel also kept saying, "Oh it's so dusty in here!" (We were cleaning a few things and my grandparent's house is very dusty)
Last night when we were eating there was a resident that was leaving. She had a caregiver with her and they stopped to chat for a moment. The resident asked Rachel if my dad was her father. My grandma explained the relationships and that there were four generations sitting at the table together. Then Rachel asked the resident pointing to her caregiver, "Is that your mom?" Keep in mind that that the caregiver was probably at least 30 years younger than her. The resident said, "She'd like to be my mother. She's always bossing me around." We got a good chuckle from that one.
Here's a few pictures. It's a great treasure to have 4 generations all together in one picture.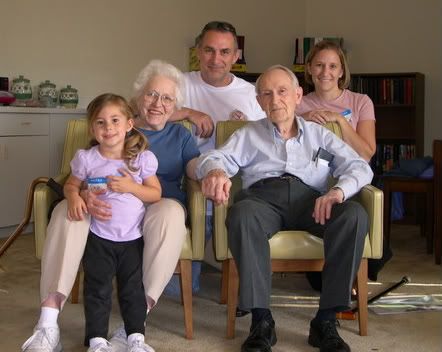 Here's Rachel with her "candy cane"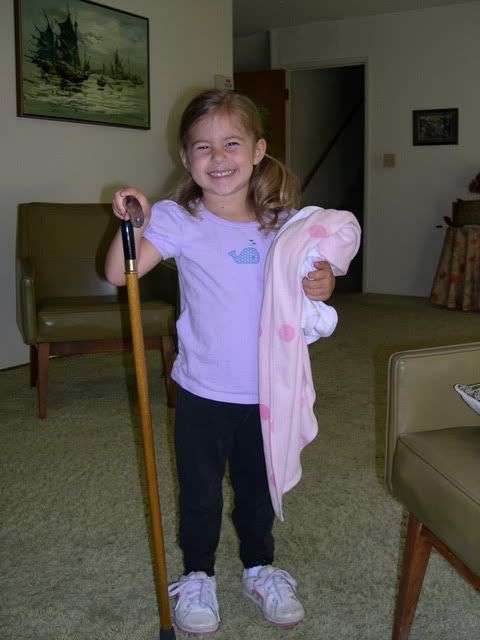 We were going to leave today after church and drive home but my dad forgot his church clothes so we ended up leaving last night. My dad drove the whole time because I'm no good at driving long distances at night. I slept a little bit but nothing of consequence and we ended up getting home at 1:30 this morning. Because it was so late and I was so tired me and Rachel came home after Sacrament Meeting. I put on the tv and slept for like 3 hours (Spencer got home about 45 minutes after we did. . Even after that I was still tired but it was nice to take a nap on Mother's Day.

So there you go, it was a fun but busy and tiring weekend but it was good to see my grandparents.