...hence the lack of posts that don't have to deal with poop.
Last Friday my brother-in-law got married. Hooray for them! But the wedding fun-ness didn't just happen on Friday. It started Wednesday.
My sister-in-law, T-Bone's only sister, and her family was coming down to stay with us. I have been meaning to clean my carpet, especially under the kitchen table for a while. While we are on that topic, who's bright idea was it to put carpet--cheap carpet--in the dining area? Sometimes I really hate living in an apartment. Anyway moving on....so a couple of my friends and I went in and rented one of those Rug Doctors. I used it first and while I was less than impressed at its stain taking out abilities the other two were satisfied. It wasn't really clean until I went around and used OxyClean and spot treated all the little spots around our table and in the living room. While it was drying Boogers and I went to the Library to kill time. We couldn't get any books though because I have an outstanding library fine on three movies. I will return them tomorrow though when they have Library Fine Forgiveness day. What a wonderful invention that is. That evening we drove down about an hour away for the Bridal Shower and the Bachelor Party. That was fun and my future sister-in-law (well now she is my sister-in-law) got lots of lingerie. Boogers was Katie's shadow the whole night. She will sometimes latch on to someone and just follow them around where ever we are. She did this last Halloween with a guy dressed as a chicken in our ward. We got home about 9:30 and crashed for the night.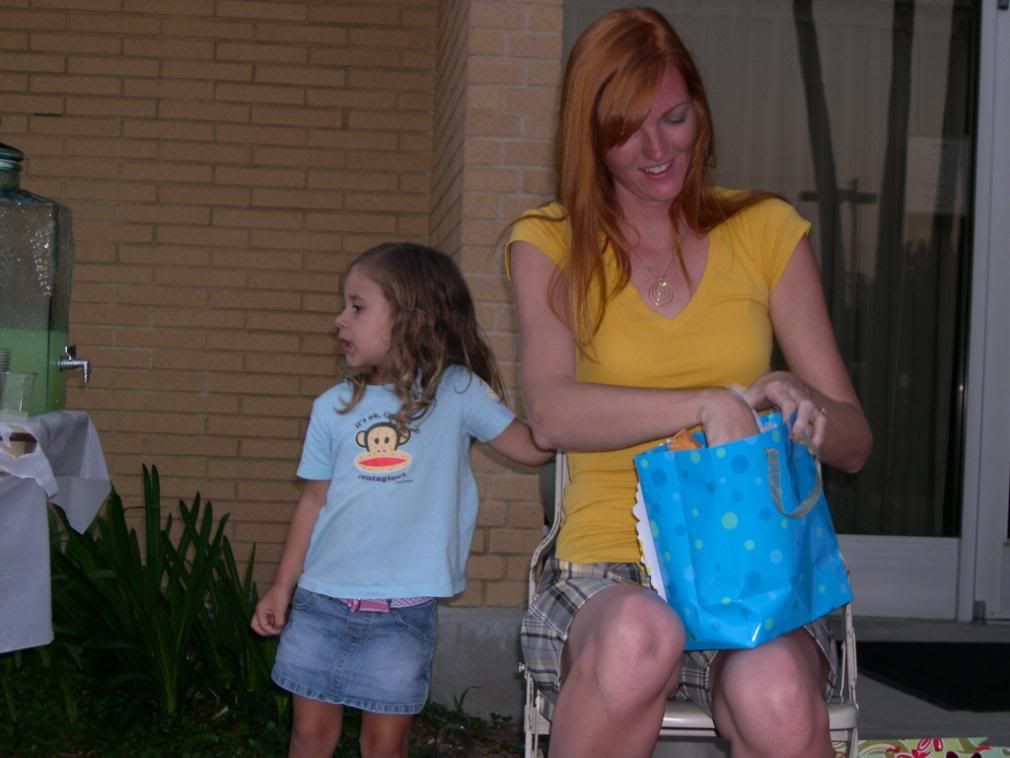 On to Thursday...I had been meaning to clean my house for a few days but since my SIL was coming I didn't want to clean say on Monday and then have to clean again on Thursday. Why clean twice? So Thursday was cleaning day. And I really mean cleaning. I cleaned
everything
. I was tired but I love when the whole place is clean. There is such a sense of satisfaction. Thursday night was the wedding dinner. You know the kind where both families are invited so that we all can get to know each other but we end up sitting at opposite ends of the room and only talk to our own family? Yeah, that kind. Again it was an hour away. We were supposed to leave at 5 but Leah and Nate didn't get here until then. They drove from Sacramento with a 2 month old so we decided they needed some resting time before we drove another hour. Besides when we put Drake in his carseat after only 15 minutes he was not happy! So we ended up getting there an hour late but the food was still out and the company was nice. We ended up getting home at around 10 that night and crashed again.
The next day was the wedding nd the boys in the family had this great idea to go golfing before the ceremony. They got up at the butt-crack of dawn to hit a 7:15 tee time. I was actually glad they went because all T-Bone's brother's except one and his only BIL all spent time together. It was good brotherly bonding time. T-Bone and Nate got home around 11 and me and Leah took off to go shopping. I had been wanting a new dress for the wedding but just hadn't had the time or the energy to go shopping. So we left the kids with the men and took off. I found a cute dress and shoes--which I'm not super happy with now because they gave me mean blisters--in my price range so that was great! We made it home with barely enough time to change and head down to the Temple. We had the sealing, pictures and then and In-N-Out stop on the way to the reception. It was very much needed and appreciated because the food at the reception wasn't even ready for 45 minutes. The reception was fun with dancing and food, but from the activities of the last two days I was pooped. I got bursts of energy when they had a fun song on but otherwise you could find me slumped over on the table just waiting for it to end. I don't know how the bride and groom did it. Besides that my feet hurt. The one great thing about the night was ALL T-Bone's family was there (with the exception of two nephews). With 7 kids spread out between Utah, California and Arizona it gets hard to have them all together. We did
and
we got a picture! We got home even later that night and actually Leah and I ended up staying up until a little after midnight uploading pictures and chatting.
Saturday Boogers slept in until 8:30. Hallelujah!! We hung around the house in the morning and chatted with Leah and Nate before they left but otherwise tried to recover from the last three days of our life. After they left we tooks naps and then did something not worth remembering at the moment.
Sunday and Monday weren't worth remembering either, I guess but then the fun started up again Tuesday.
It's my
sister
's birthday today--Happy Birthday Emily!!--so on Tuesday we met half way between our houses and had lunch for a little bit. I was supposed to bring some
books
but doh! I forgot. So lame...Instead of going straight home Boogers and I stopped at the March AFB Airplane museum. Boogers had fun looking at all the planes but she wanted to touch them all. It was about 90 degrees in there so we only stayed for 45 minutes (plus they closed) but that was about all Boogers needed to be happy. We didn't even go outside to see all those planes.
And that brings me to yesterday! I went with a great group of people to The Price is Right! Woohoo! I have wanted to go for
years
. In 1997 I worked at Office Depot and my lunch was from 10 to 11 every day. So every day I watched The Price is Right. I've never been able to free a whole day from my life until yesterday for something like that. I was joking with some friends that I can't go to jury duty because I have a kid, but I have no problem pawning that kid of on a friend so I can go to the Price is Right! A huge thank you to
Emily
(no not my sister, I know a lot of Emily's) for taking Boogers for the day! No I didn't get called up but finally one guy from our group did at the very end.
Here's
what Brooke, who organized the trip, had to say (and she took pictures). She's just plain awesome for getting all those people together to go!
So that's where I've been the last week and a half...If you made it through this post then you deserve a prize