On Monday we took Boogers to the Del Mar Fair (yes, the Del Mar Fair, not the San Diego County Fair...it will never be called that by me). We had planned on going because Weird Al was doing his concert but at the last minute we decided we would go to just have fun in the afternoon so we could get Boogers home in bed at a decent hour. We bought a value pack ticket thing at Costco and we had no idea how much we saved. The pack was 4 Fair tickets, a parking pass and 50 ride tickets for about $50 bucks. We figured out that we pretty much got $30 dollars of ride tickets for free so we were totally stoked! My Dad and Karen came with us so that made it fun.
Boogers had a blast! We took her to the Kiddie Land so that she could ride the rides her size and she couldn't get enough. After every ride she would point and say, "I want to go on that one!" Hardly any pausing. She was having the time of her life and it was so fun to live through her excitement. We ended up going on quite a few rides-way more than we expected-and most of them Boogers went on herself. When we were out of tickets, Boogers kept saying, "I want to go ride more rides." It was tough explaining we were all out of tickets!
This car ride was so fun because it "drifted" you around the corners. The kids were loving it!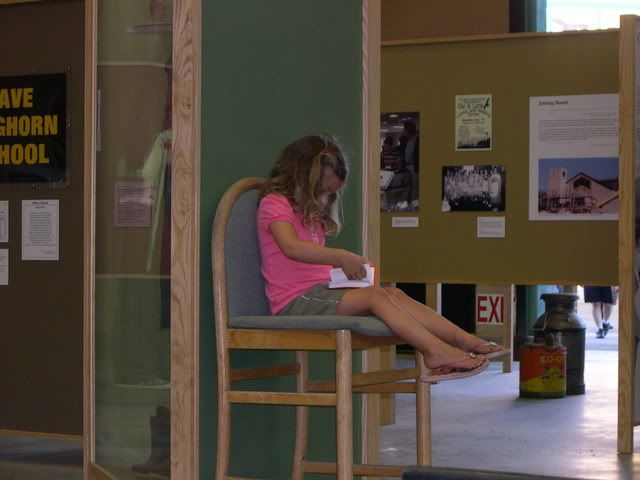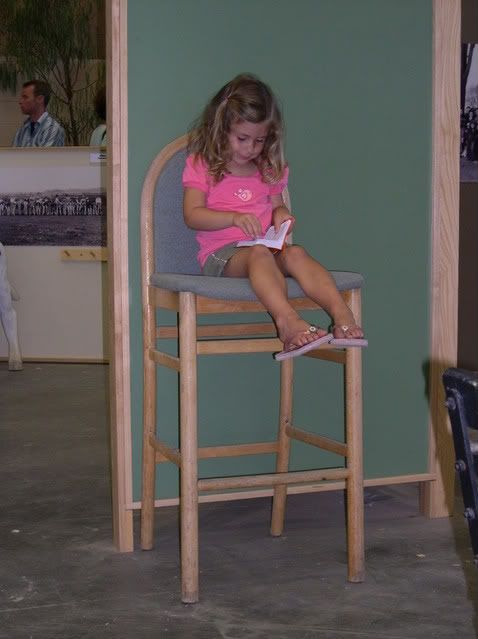 This is Boogers reading her "scriptures". The Gideons gave her one of their Bibles and she was in heaven. This kid loves books with all the fiber of her being and to have her very own orange Bible was pure heaven for her. She has been carrying this around all week and sleeping with it. She loves to just turn the pages and pretend she's reading.
We ended up staying for a few of Weird Al's songs, but Boogers-and us for that matter-was so tired that we just took off for home. All in all fun day at the fair!