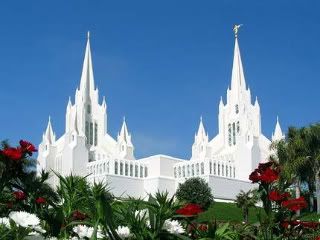 It's been a long time since I've been to the Temple. I mean I can't accurately remember when I went--I fairly sure I went sometime in February though. Now before your imaginations run wild with sins or infractions I could have committed let me put that to rest. I was just lazy. I let other things get in the way. It would be Ward Temple Night and T-Bone wouldn't be able to go with me or just got home too late, so I would stay home. Then there was the time I really wanted to go but that was the week that gas prices jumped like $0.30 cents in two days. Then there were other times I was just too dang tired--read lazy.
Well last Thursday it was Ward Temple Night again and I was faced with a dilemma. Go to the Temple or stay home? T-Bone had a meeting to go to that night so I would have to find a babysitter for Boogers. I was chatting with my friend Lacey in the morning and she asked me if I had planned to go. I told her the usual, "I want to but...." As I thought about it that day I realized that there was no reason I couldn't go, I just didn't want to put forth the effort to make it work. So I pulled myself together and called my Dad to see if he could watch Boogers. He was free and Lacey and I went together.
For those that are not of my faith the
Temple
is a beautiful place where we do sacred ordinances for people who have passed on. We don't talk about what we do there but not because they are secret; they are just very sacred to us. As I was sitting in the temple I was overwhelmed with a feeling of peace. I had that
burning in the bosom
feeling that tells you that something is right. I felt the Spirit so strongly "tell" me that I was in the right place; that I had made the right decision in coming to the Temple. I needed that reminder that night and I was so grateful to have received it.
Don't put off going to the Temple. I know that I won't always receive these feelings and have experiences like this but at least I can remember that that is the place that Heavenly Father wants me to be.