T-Bone and I went on a cruise this week. We have never been on a cruise before so it was definitely eye-opening. We had a good time, though I'm not sure I would travel this way again.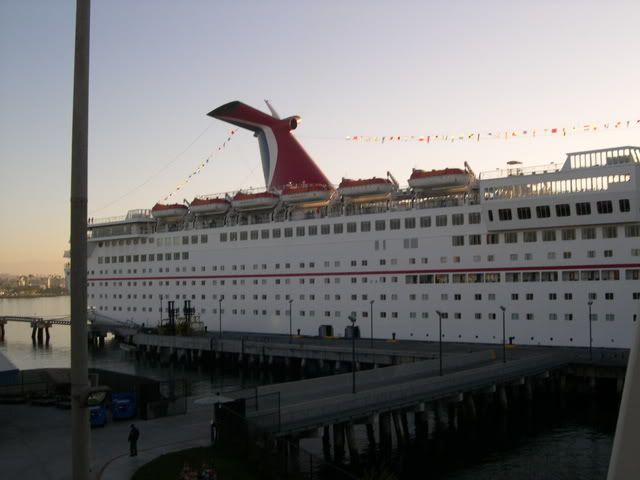 Part of the cruise ship as we were getting off. I should have taken another picture earlier, but I didn't...This thing was huge. 800 feet from end to end.
We left the Port of Long Beach on Monday evening and sailed all night. For those who haven't been on cruises before they assign you a time, a restaurant and a table to eat dinner at each night. You can chose to eat somewhere else if you wish but that way it's nice. You don't have to wonder if you will find a seat in the restaurant or somewhere else on the boat. We sat at table 205 with a couple nice couples that only came to dinner twice out of the 4 nights we ate there. We enjoyed the conversation so we kept coming back. The food left much to be desired though. It wasn't bad, per
se
, but not what I would like to eat for more than four days at a time. The boat had a lot of things to do: comedy shows, game shows, karaoke, a few
jacuzzis
and pools and lots of food to eat all the time.
Our first stop was Avalon, Catalina Island. I was expecting it to be bigger. We got off the boat at about 10 am and walked around the town. We had a shore excursion planned at 12:30 so we figured 2 hours would be enough time to wander around and explore. We were done by 11. T-Bone had lost his voice on Sunday so he was a little annoyed and grouchy with that so the morning kind of drug on since I had no one to talk to but myself. Finally it neared 12 noon so we started looking for where we needed to be. We had planned a kayaking trip and saw a
company
on the dock we were at. We waited around for a little while then T-Bone decided to get smart and ask if we were at the right place. We weren't. So we looked around and found that we had to be around the island a bit. We hoofed it over there not want our tour. When we were in San Francisco 5 years ago we planned to go to Alcatraz. I have wanted to go to Alcatraz my whole life and this was my opportunity. It took us 35 minutes to find a parking spot and the boat left 2 minutes before we got there. So depressing. We did
not
want that to happen again. We made it over there with time to spare.
After frustrations with a locker and getting all ready we finally climbed into our kayak. This is another thing I have wanted to do my whole life too. It did not
disappoint
. We kayaked for about 45 minutes around the island, stopped at a little cove and got some cookies, and then went back. Along the way our tour guide stopped us and told us about the giant kelp beds, history about the Island, and the birds and animals that live there. It was very informative. Before the tour I was worried that it would be lame and overpriced but I'm so glad we went on a tour. We could have just gotten to the island and paid that way but we wouldn't have gotten much information about where we were. We met some wonderful people too that
took
some pictures for us. I did get an underwater camera so I have some pictures on there I still have to develop. Those will come later. Here's some from walking around the Island. After kayaking we went back to the ship. We were pretty tired from walking and kayaking so we just hung around.
Wednesday we were in
Ensenada
, Mexico. Total letdown. I've been to Mexico a couple times. We went to
Rosarito
a few years ago and I've been surfing once but seriously folks, a whole day there? The main drag was full of shops with the clerks outside practically harassing you to come in. And don't even get me started on all the street peddlers. I was hoping to buy some cute things there but every store--and street peddler--had the same exact stuff. I wondered where they got all the stuff to sell and T-Bone joked that it was from
Wal
-Mart. I was hoping we would dock near a beach and we could play in the water and lay on the sand for a little while, but that was a no-go also. I asked a security guard at the dock in my best Spanish accent, "
Donde
esta
la
playa
?" "3 miles," he said. So we headed back on the boat for another nap.
This flag was HUGE. That's how we were welcomed to our neighbor to the south.
Since we had nothing else to do we roamed around the boat some more and decided to take advantage of what they had to offer. They had a 9 hole mini golf course that we played twice. Then we played some shuffle board. My hips started hurting from all that lunging so after a couple games I left T-Bone to play by himself while I listened to my
iPod
.
Thursday we had a full day on the boat while we sailed back to Long Beach. We spent most of the day lounging around by the pool and the jacuzzi. It was a little chilly since the wind was blowing pretty hard but it was still nice.
Friday morning we got off the boat as quick as we could and headed to pick up Boogers at my sister's house. After lunch, we took the kids off her hands to a Children's
Museum
they have. The kids had a blast and I'm glad we could give my sister a couple hours peace after having three kids all week.
So there you have it. Our first vacation together that lasted more than a weekend and our first time away from Boogers. All in all it was a good time and I'm glad we got to spend some time together.