I've gotten a few awards lately so here they are. I'm totally lame at putting these on my blog but I wanted to say thanks to those that have given them to me! Feel free to snag them!

From madhousewife: This blog invests and believes, the proximity. [meaning, that blogging makes us 'close' -being close through proxy]. They all are charmed with the blogs, where in the majority of its aims are to show the marvels and to do friendship; there are persons who are not interested when we give them a prize, and then they help to cut these bows; do we want that they are cut, or that they propagate? Then let's try to give more attention to them! So with this prize we must deliver it to 8 bloggers that in turn must make the same thing and put this text.
--Just a note, I have no idea what the heck this means...:)

This one's from Cheryl



And this one is from Shauna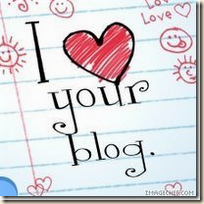 And because I'm even more lazy, I've been tagged a couple times. Here they are.
This one's from my old college roommate at BYU-H,
Maile
:
Tagged
Here are the rules:
1. Link the person who tagged you.
2. Mention rules on your blog.
3. Tell about 6 quirks of yours.
4. Tag 6 fellow bloggers to do the same.
5. Leave a comment to let them know.
1. I hate my toenails long. As soon as they get long enough to where I can feel them they get cut. I would rather do my own toenails then get a pedicure because those ladies never cut them short enough for my liking.
2. I have a very defined routine in the shower. If I waver from this at all I'm liable to forget things. First I shampoo my hair. Then I wash my face, then my body. Then lastly I condition. Has to be that way.
3. When I'm talking about something I usually makes sound effects about it. I never realized it but T-Bone makes a big deal out of it every time I do it.
4. I have a crooked mouth when I yawn.
5. I've taken a nap every day for the last 3 weeks. Pure bliss.
6. I get my mail every day. I always thought that was pretty normal but some of my friends don't. They just forget. Not me. If I don't get the mail I worry about whether there were any important letters or anything that I'm missing. Funny thing is we don't get a lot of mail. Same thing with my email. I hate knowing that I have unread messages.
------------------------
This one is from another BYU-H roommate,
Shelley
. And no I didn't live with Maile and Shelley at the same time, I just lived with each of them separately.
1 Thing I'm looking forward to:
Relaxing tonight
2 Things on my wish list:
New clothes
Someone to do my laundry for me tomorrow
3 Favorite restaurants:
Mr. Taco
In N Out
Trattoria I Tuilli
4 Things that happened yesterday:
Watched Pushing Daisies
Held Prop 8 signs on a corner
Took a nap
I know there must have been more, but I can't remember
5 TV shows I love to watch:
The Office
Chuck
Heroes
Pushing Daisies
The Biggest Loser
6 people I'm tagging:
Anyone who wants to
_______________________________________________________
ABC tag, you're it:
A = ADVOCATE FOR: Proposition 8
B = BEST FEATURE: T-Bone says my butt
C = COULDN'T DO WITHOUT: The internet and my laptop
D = DREAMS AND DESIRES: Right now, another kid
E = ESSENTIAL ITEM: flip flops
F= FAVORITE PASTIME: Checking my email and watching TV
G = GOOD AT: Knitting cute things
H = HAVE NEVER TRIED: bungee jumping
I = IF I HAD A MILLION DOLLARS: I'd save most of it especially for a house, buy a car for T-Bone
J = JUNKIE FOR: peanut butter and chocolate
K = KINDRED SPIRIT: I've met lots and lots... I've been lucky that way in my life.
L = LITTLE KNOWN FACT ABOUT ME: A couple of my toes on both feet are double jointed
M = MEMORABLE MOMENT: Getting married and giving birth to Boogers.
N = NEVER AGAIN WILL I: Longboard skateboard down a hill in the dark...or the day for that matter. I ate it baaaaaad a few years ago.
O = OCCASIONAL INDULGENCE: Corndogs. I know that sounds silly but I love Hot Dog on a Stick.
P= PC or MAC: I have a PC but I want a MAC
Q = QUOTE: I know I could pick a more motivational quote but I like this one. "I just like to smile, smiling's my favorite."--Buddy the Elf (Elf)
R = REASON TO SMILE: Boogers and T-Bone
S = SORRY ABOUT: Being frustrated with Boogers
T = TAG SOME FRIENDS: Do it if you want
U = UNINTERESTED IN: Making my bed every day or being productive after Boogers goes to bed.
V = VERY SCARED OF: Never having another baby.
W = WORST HABIT: Procrastination which sometimes turns into forgetfulness.
X = X MARKS MY IDEAL VACATION SPOT: New Zealand
Y = YELLOW OR PINK: If I have to choose, pink.
Z = is for zippers. What a great invention.