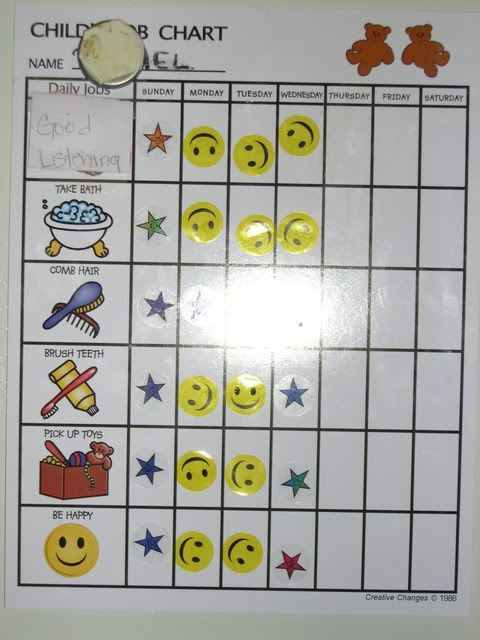 So some of you may remember my
woes and complaints
a couple weeks ago about Booger's behavior. I was determined something must be done. She was spending
way
too much time in time-out and needed something more positive and motivating.

Well let me tell you I found it! Oh blessed day, I found it. I went to the Teacher's supply store down the road and found a sticker chart. All it has is 6 things that she must do every day but it has worked wonders. Wonders I tell you! (I changed one since we don't really make our beds around here.)

We started it last week and she grasped onto the concept right away. We told her that if she got all her stickers then she could get a treat at the end of the week. I figured something from the dollar section at Target or a small candy. The first day was magical. Every time she delayed in doing something--mostly it was being a good listener--I would ask her if she wanted her sticker. That set her straight right away. She loves to put her stickers on at the end of each day and eagerly awaits the end of the week.

I really wanted her to get all her stickers the first week so it would be a positive experience and she knew she could achieve it. I gave her lots of chances to do things but I never felt like she was taking advantage of those chances. Also for the first time I noticed that she really felt remorse for things when she did them wrong. She would really feel sorry. I guess when you have something to look forward to you feel worse when you think you might not get it.. This was a great opportunity for me and her to talk about repentance--in a way a 3 year old can comprehend--and forgiveness as well.

Well she did get all her stickers and we went and got her treat on Monday. She was so excited. Now we're on to week 2 and she's still motivated by it. I've had to change one thing with the chances though now. I told her that if she disobeys I will have to put a check mark in her spot and if she gets three then she doesn't get a sticker. That has seemed to hit the spot with her too. "I don't want to get a check mark, Mom." Good answer, I think to myself.

Life has been happy around this household for the last 11 days. I have hardly raised my voice in over a week and I think she's gone into time-out like once or twice. I'm optimistic but also realistic that this may be temporary but I really hope it continues.